News.com.au says Channel Nine's new show Underbelly has a "violent bashing, a sex scene, liberal use of the "F" word and a graphic shooting in cold blood – and that's the first 20 minutes."
Naturally, family groups like the AFA (the same people who said a stage play that depicted Jesus as gay man was a crime) are pissed.
The Australian Family Association (AFA) yesterday threatened to take the matter to Communications Minister Stephen Conroy if the content of the show was anything near that of an unauthorised promotional clip leaked from Nine's production department.
This comes after an unauthorised teaser video of the show was circulated on the web, but Nine's chief classifier says not all the scenes shown made the final cut. You can watch it here (now removed).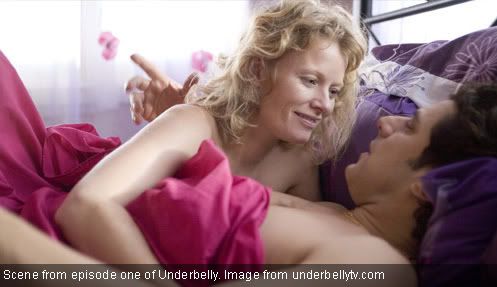 Don't worry if you're in Victoria though. Supreme Court justice Betty King has just now granted an order to delay the broadcast on the grounds of prejudice to a trial that is before the courts.
"It will be difficult for the viewing public to sift through what is factual material and what is fictional" she said.
Therefore, it won't be broadcast in Victoria until after the trial.
This whole situation reminds me of the Blue Murder TV movie about Neddy Smith and Detective Roger Rogerson. It wasn't shown for 6 years due to Smith's appeal against a life sentence. Blue Murder was a gritty, violent crime fest that contained every male Aussie actor invented. Peter Phelps even played a character called 'Abo.' It was a quality, well written and directed production by Australian standards.
Instead of just tuning out, the family frothers have given Nine more publicity than they could have bought. You can watch Underbelly 8.30pm Wednesday.